AFARI-Restoring Mobility and Confidence
Alexanders is proud to be an AFARI manufacturing partner for Mobility Technologies, a company that believes people with physical challenges deserve equipment that fosters engaged, independent and vibrant living. No one should be sidelined by injury, illness, or age.  Everyone deserves the physical and emotional benefits of living an active life.
Throw aside the walker.
Finally there is a piece of medical equipment that promotes vitality in the outdoors.  The AFARI fosters a natural upright posture, moves smoothly over rough terrain, restores mobility, and overcomes the barriers of unsteady balance. It looks and acts nothing like a medical device, uniquely designed for use on trails, cobblestone, fields, beaches, and snow. People regain a sense of normalcy and feel confident using equipment that looks adventurous and sporty.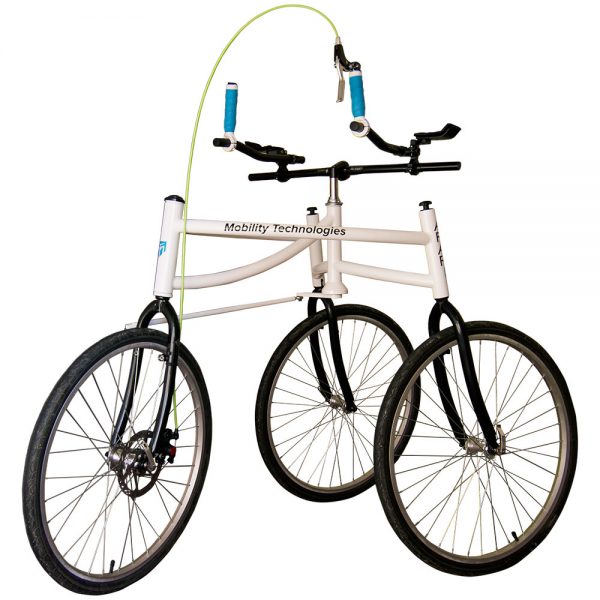 For outdoor enthusiasts who have experienced life-altering illness or injury, the AFARI can restore the ability to run and actively engage in the open air.  The concept for the AFARI was born from the original co-founder's life-changing illness that left her without the stability to run in the outdoors. She found nothing on the market to aid her. The AFARI broke those barriers that propelled her from an observer to an active participant when early in the development phase she successfully completed a 5K race with one of the AFARI prototypes.
In the fields of physical therapy and occupational therapy, the AFARI's role in healthcare solutions includes injury rehabilitation, restored mobility for the aging, renewed participation in outdoor fitness for the chronically ill, and extended periods of exercise for people seeking endurance or weight reduction.

The AFARI is designed and engineered for ease of use and comfort.  It is equipped with an active steering mechanism along with a manual braking system that is easy to engage, even for those with hand weakness. The adjustable armrests for the forearms provide stability and comfort by removing direct impact on the wrist, elbow and shoulder joints. The unit promotes an upright position and increases confidence with forward looking, while reducing injury threats present when walking in a stooped eyes-down position.  The AFARI is convenient to transport and store.
The relationship began in 2015 during the design phase, an area of expertise for Alexanders.  The company's role, spanning several generations of prototypes, has included a new folding concept for easy transport and storage, as well as a steering concept that is more functional and comfortable than the original design.
Alexanders' vision for aggressive tires suited for more rugged terrain was adopted and is being offered as an option for the AFARI unit. During a Veterans Adaptive Sports demonstration, the AFARI with the rugged tires was a favorite, bringing smiles and sparking a twinkle in more than a few eyes.
The hands-on manufacturing at Alexanders has involved CNC machining, steel tube rolling and welding, powder coating, and the assembly of components. With the evolution of the market-ready final design, Alexanders has transitioned to machining and fabricating fixtures for the efficient manufacture of multiple frames.
"Alexanders has been a valuable partner in the design and manufacture of our AFARI unit. They have demonstrated a maximum level of support, making changes whenever necessary and meeting our scheduling needs. Jimmy and his team have the ability to solve problem areas. which for us has lead to a more functional, comfortable and user-friendly product."
-Ryan Beaumont, CEO and Co Founder
Visit Mobility Technologies for more on the AFARI, and join their mailing list to receive updates on scheduled demonstrations.