WHAT WE BUILD
We manufacture steel and plastic products ranging in size from small CNC machined parts to large pieces of manufactured equipment. Project quantities range from "one-offs" to medium-runs.
WHAT WE STRIVE TO ACHIEVE
Solving your problems, making your job easier, and hearing "Thanks, we really appreciate you" are part of what we strive for each day. Making our employees feel valued in their work is equally important.
WHAT WE HEAR
"That's a GREAT idea!"
We hear it a lot, and it never gets old.
OUR STORY
Everyone has a story. Ours began on a cold day in November 1994 and centers on a young man with a few pieces of equipment, driven by a determination to work hard and take care of his family.
Backed by a mechanical education, military training, and hands-on experience, Jimmy Alexander spent long hours fabricating and machining really neat stuff. His customers found he had the ability to see what others simple could not, and they liked his work.
In 1997 Denise Alexander turned her business education and management experience toward Jimmy's expanding company. As co-owner and Jimmy's side-by-side partner, her individual strengths supported his well. The company started to grow.
Move the story forward more than 20 years and you find a steel fabrication and machining company employing skilled workers who operate current equipment and create unique products that solve a myriad of problems across many industries. The client base extends to all four corners of the United States—from California to Maine, Arizona to Florida. The number of completed projects is in the thousands.
The final chapters to this story are still being written. And though things have changed, Jimmy's determined work ethic, friendly approach, and a love for what he does remain the same. He is still fully supported by Denise's attention to all things detailed. It's been a good story so far.
OUR PHILOSOPHY
Our philosophy is rooted in Jimmy's optimism. Leadership that sees answers to problems, the goodness in people, and the positives in challenging times has always been the foundation of our company. Treating people kindly and with respect is fundamental to how we do business. We work hard. We enjoy what we do. We do not cut costs by cutting corners. We continually learn about new techniques, new materials, new approaches, and new equipment. Customer satisfaction is a top priority.
Our employees are an extension of our family, and we work hard to make them feel supported and appreciated. We also place a high level of importance on their families, providing flexibile work schedules for those times when quality-of-life events and family matters arise.
Profit is financial gain, and yes, we are in business to make a profit. But profit is more than an accouting term to us. We profit when we serve people well. It's about the the tone of our voice, the smile in our service, and the quality in our products. We aim to serve people every day and do our best to right wrongs when they occur.
OUR GUIDING PRINCIPLES
Build it better than they expect
Make a customer's life easier
Be kind and do what's right
No short cuts
Connect daily with employees
Be a bright spot in someone's day
Whenever possible, lend a helping hand
OUR ABILITIES, OUR NICHE
We have the ability to see what is not there and to build a quality product the way you need it. It sets us apart.
OUR TEAM
Our team is made up of dedicated, loyal, hard-working people. It is important to us that each person likes what they do, and that they do it well. There is a certain intangible quality that unifies team members to pull in the same direction. We look for that quality in our employees, our vendors and suppliers, and the businesses that team with us. There are certain characteristics that make people a good fit for our team, an intangible quality that produces tangible results.
OUR NAME CHANGE
Our name reflects our niche, mechanical solutions. In 1994 the name Alexander's Welding & Machine, Inc. described what we did, but as the company developed and our strengths emerged, it became clear we had outgrown our name and it was time for a change. Our better name, Alexanders Mechanical Solutions, Inc. was made official in 2015.
OUR BACKGROUNDS
Jimmy and Denise Alexander co-own and manage the company that Jimmy started in 1994. Jimmy was the driving force behind the small start-up, while Denise provided administrative support.
Before joining forces, they each pursued their own educations and gained valuable work experiences.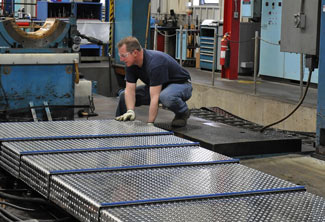 After college Jimmy capitalized on his vocational education and began a career in the automotive mechanics industry, while also serving in the Air National Guard. Through the military he gained heavy equipment experience, along with aircraft machining and welding training. In the early years of his workplace career he transitioned to metal fabricating and sales for a small machining company, before eventually launching Alexander's Welding & Machine. Unlike most owners of a 20+ year company, he can still be found on the shop floor doing what he loves—inventing something new and outsmarting conventional wisdom.
Denise began her career as a high school business teacher and followed it with nearly 10 years of office and business management experience with a mid-size engineering and mapping company. Supporting Jimmy's efforts in 1994 in a part-time capacity naturally turned to a full-time focus in 1997. Her current responsibilities include business management, human resources and accounting functions. Her primary focus is customer service and project management for on-time delivery.
THANKS FOR STOPPING BY
If you are browsing, check out some of our cool products in our Projects Gallery.
If you would like to know more about us or have questions, we would love to hear from you. Either way, thanks for stopping by and visiting our site.